Free Workplace Safety Culture Survey with certification and analysis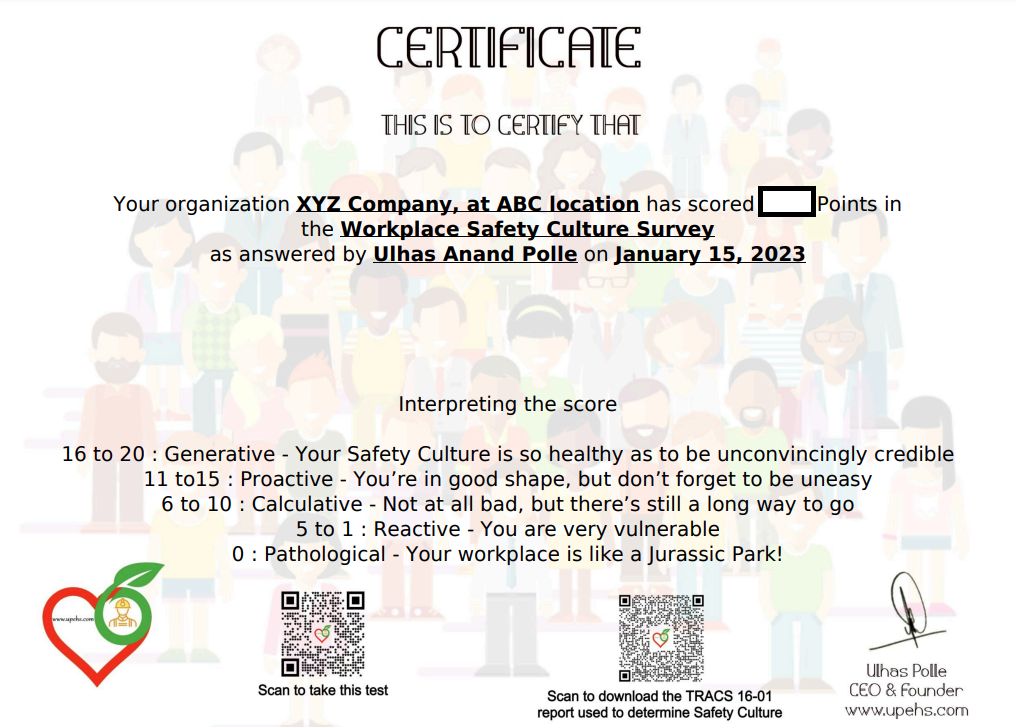 "What gets measured, gets done." This free workplace safety culture survey would be your first step towards improving it.
Creating a safe and healthy work environment is essential for any business. Not only does it protect employees from harm, but it also improves productivity and reduces costs associated with accidents and injuries. This survey is a powerful tool that can help companies identify areas where improvements are needed and measure the effectiveness of your programs and training.
This free workplace safety culture survey includes questions on topics such as communication, leadership, and incident reporting. By taking this survey, you can gain valuable insights into your organization's perspective and make informed decisions about how to improve it. Furthermore, one of the key benefits of this survey is that it gives employees a voice in the assessment process. Additionally, it allows them to share their perceptions and experiences, which can provide valuable information that might not be captured through traditional methods such as incident reports or inspections.
Workplace Safety culture is shared values, shared beliefs and attitudes that interact with all system members, safety policies, procedures, and rules to produce behavioral norms (the way we do our jobs, whether we are being observed or not).
Additionally, this free Workplace Safety Culture Survey will help you understand your organization quickly. Specifically, you can measure and then improve upon the score you get in your workplace safety culture test.
However, it is important to keep in mind that this culture survey is only one aspect of creating a strong culture. Furthermore, a comprehensive approach that includes ongoing training, clear policies, and leadership's commitment to safety is also essential. In conclusion, a workplace safety culture survey is an essential tool for any company looking to improve its culture. By taking a free survey, companies can gain valuable insights into their safety culture and make informed decisions about how to improve it. Furthermore, providing free certification to employees who complete the survey can increase employee engagement and demonstrate the company's commitment. Consequently, with the right approach, companies can create a safe and healthy work environment for their employees.
The test is been on reference from Transit Advisory Committee for Safety (TRACS)
Answer each question below based on your perspective you have for your organization.
You can find another free certification quiz to measure your Happiness here.