Workplace Hazard Interactive Quiz -7 – No Ads Link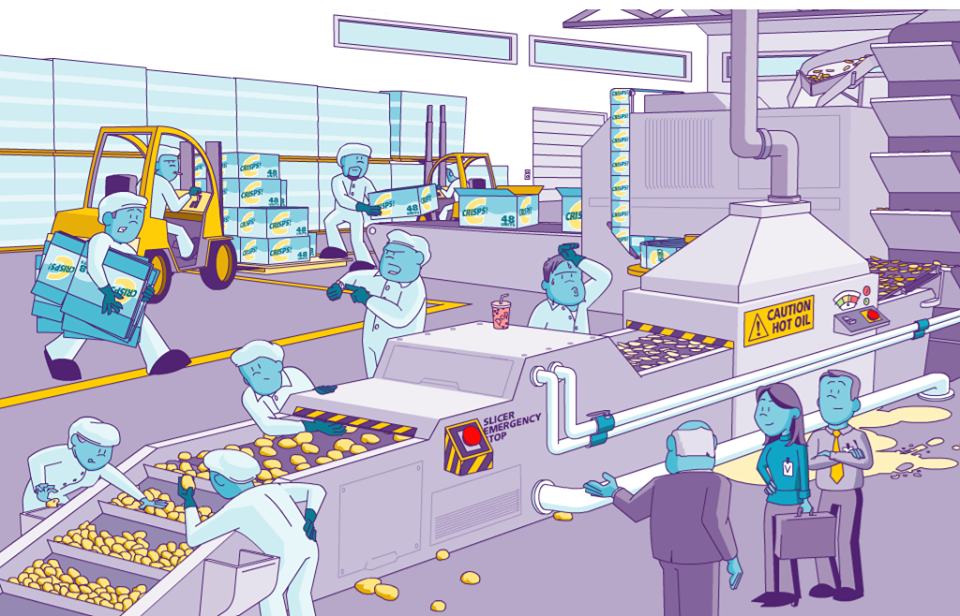 Workplace Hazard Quiz of a Food Industry
Many jobs in food industry include repetitive and high physical activity due to the demanding work. Food producing workers are profoundly vulnerable to repetitive strain injuries to their backs, hands, wrists and elbows because of the nature of the job. Hence, such injuries are common in food industry due to workplace hazard.
Workers may have to work regularly for long time. They may need to lift heavy items or use cutting, slicing, grinding machines and other dangerous devices. They often need to work in hot conditions like being close to boiling oil, moving blades, conveyors and need to be extremely focused at their task. Even a second of distraction can lead to a serious accident in a food industry.
To manage such risky working conditions, ergonomic projects may need to be established for eliminating work related injuries.
In an effort to reduce Workplace hazards, many plants may redesign equipment, increase the use of job rotation, allowed longer or more frequent breaks, and develop training programs and safe work practices for their food industry.
Here is an Interactive Safety Quiz based on Food Industry Safety. However, to pass this spot the hazard quiz, you will have to identify 12 Safety Hazards. Identify all the hazards by clicking click on the exact spot on the image where you find the problem. As you click on the image the A.I. will check the response and notify to you immediately. Use this quiz to expand your Safety knowledge and improve your skill in identifying workplace hazards.
Share this spot the hazard quiz with your colleagues to help them enhance their Skill of observing Unsafe behaviors and conditions at workplace. Your quiz will appear below:
Above all,  in Safety "The more Hazards you identify the more Accidents you can prevent". Make sure they you use your visual skills in addition to your knowledge to maximize your safety performance.
More spot the hazard quizzes are at below link:
https://www.upehs.com/category/safety/spot-the-hazard/
If you are an educational institute, please contact me to get an ad free page for use. No strings attached. Get your students to understand the art of observing rather than just seeing. This will help them to make better decisions in a working/ industrial environment so that they can fix the problem immediately on observing similar conditions. You can view my LinkedIn Profile Here
food industry spot the hazard unsafe act unsafe condition workplace safety